<![if !vml]>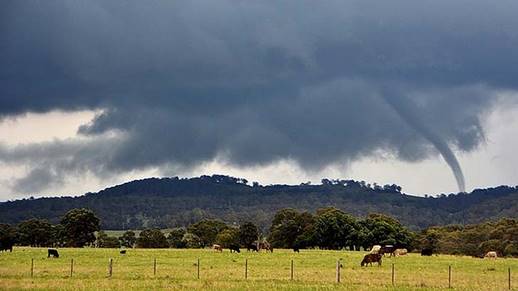 <![endif]>The Weather at Guyra NSW
The town of Guyra is literally at the top of the range near the higher parts of the Northern Tablelands. In fact the Great Divide runs right through the town itself. The Bureau of Meteorology weather station is located in the grounds of the Guyra Hospital, elevation 1332 metres. This station has been in operation since August 1981.
Prior to this the post office operated a weather station from 1911 to 1972 with a number of gaps. Rainfall has been recorded for a longer period starting in 1886 at the post office.
Readings are taken daily at the hospital at the standard observation times of 9am and 3pm.


Image shows a fully developed tornado below a storm cloud near Ben Lomond, north of Guyra.
Photographed at 4.15pm on 23rd November 2013 by storm chasers Michael Bath and Jason Paterson,
Northern Rivers Severe Weather Group, facebook.com/nrswg
Further details below in the news section.

2013 Guyra Summary
Guyra 2013 Monthly Statistics Table here.


Current Conditions
Temperature, wind, humidity and pressure in Guyra right now here.
This data is provided by a privately owned automatic weather station in South Guyra. Readings may vary slightly from the Bureau weather station at the hospital.
Note: Check time and date. Technical problems mean this website is often not up to date.


Recent Weather Conditions
Last six observations (9am and 3pm) from the Bureau weather station at the hospital over the last 72 hours here.


Monthly Data Files
Daily data for this month and the previous 12 months here.


Climate Averages

Climate averages and extremes for Guyra Post Office here.
This set of statistics uses rainfall data from 1886, but temperature data is limited to the period 1965 to 1972.

Climate averages and extremes for Guyra Hospital here.
This set of statistics uses rainfall and temperature data from 1981 which means the rainfall averages are not reliable for such a short period. It is recommended that rainfall averages from the post office site be used for greater accuracy.


About Guyra's Weather

Guyra is the highest town on the Northern Tablelands and as such records the lowest day time temperatures in the region. Overnight temperatures however, particularly in the winter months, are frequently higher than nearby Armidale and Glen Innes. This is because Guyra is at the top of an exposed plateau where the wind may blow all night, whereas Armidale and Glen Innes are in protected valleys where cold air drainage and temperature inversions are common events allowing overnight temperatures to drop to lower levels.

If you want to see snow on the Northern Tablelands, Guyra is the place to be with an average of five snowfalls per year. Most years Guyra manages at least one good snowfall with snow several centimetres deep on the ground, easily enough to build a good sized snow person! During such events the New England Highway is often closed to the north and south of the town for a few hours or maybe a full day.

Guyra's climate can be summed up as mild in summer and cold in winter.
Highest temperature on record: 34.4C* on 3rd January 2014.
Lowest maximum temperature: -0.3C on 3rd July 1984 during particularly heavy snowfalls.
Lowest minimum temperature: -7.8C on 26th June 1971.

* Estimated record high: 36C approx. on 15 January 1939 (Armidale's record high was 39.7C on this day).
The Guyra Post Office was taking temp readings at this time, but unfortunately the daily records are not available.
<![if !supportLineBreakNewLine]>
<![endif]>
---

    Below:  Snow was thick on the ground in suburban Guyra in
    the morning of 12th October 2012. Photograph by Trish Martin.
<![if !vml]>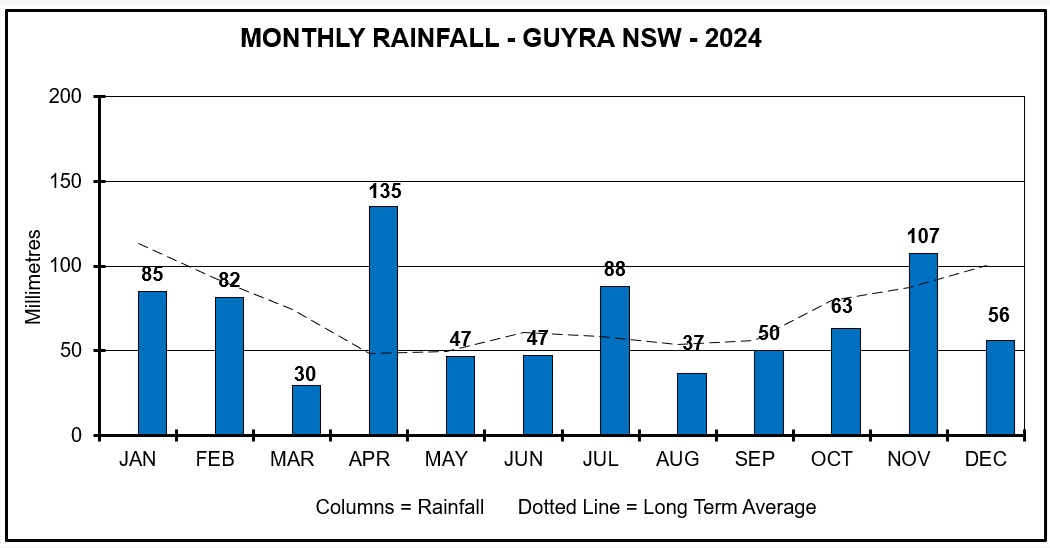 <![endif]>Guyra Weather News 2014

FEBRUARY 2014 SUMMARY  (Long term average in brackets)
Rainfall:  38.2 mm  (94 mm)
Average maximum temp:  25.7C  (23.0C)
Average minimum temp:  12.1C  (11.8C)
Highest:  31.1C on the 9th
Lowest maximum:  19.1C on the 5th
Lowest:  7.3C on the 9th
Frosts:  0  (0)
Fine sunny days:  13  (12)

SUMMER OF 2013/14 DRIEST ON RECORD - The rainfall total for the three summer months of just 74.7 mm was the lowest on record (125 years of records).
December recorded 27.6 mm, January was the lowest with 8.9 mm, and February totaled 38.2 mm.

DRIEST JANUARY FOR 33 YEARS - The month total of just 8.9 mm was the lowest for the month of January since 1981 (4.4 mm), and was the lowest for any month since August 2008 (3.6 mm).
Only 36.5 mm was recorded over December 2013-January 2014, driest for these two months on record (records commenced in 1886 with a few gaps).

HOTTEST JANUARY FOR 11 YEARS - Day temperatures during the month averaged 26.2C which was the highest since January 2003 (26.2C). Temperatures reached or exceeded 28C on 11 days with the highest being 34.4C on the 3rd - see below.

HOTTEST DAY FOR 62 YEARS:  34.4C - Friday 3rd January - A low pressure trough over inland New South Wales directed very hot north-westerly winds originating from central Australia over the north of the state. As a result many areas recorded their hottest day on record. In Guyra the maximum was 34.4C, the highest recorded at the present weather station site, and the highest since 7th February 1952 (34.5C).


Guyra Weather News 2013

2013 RAINFALL TOTAL:  754 mm - 124 mm less than the long term average.

BEN LOMOND TORNADO - 23rd November - A severe thunderstorm north of Guyra generated one or more tornadoes at around 4pm. A farmhouse at Tenterden, north-west of Guyra, was destroyed and other nearby buildings were damaged, probably by a tornado which apparently moved in an easterly direction towards Ben Lomond village. More than one tornado developed in the Ben Lomond area, but all were shorted-lived according to this report by storm chasers Michael Bath and Jason Alexander: Ben Lomond tornado report.

RECORD SEPTEMBER WARMTH - The average maximum temperature for the month of 19.3C made it the warmest September on record (from 78 years of records going back to 1911, but with a number of gaps). Also the maximum of 26.0C on Thursday 26th was the highest on record for September. (The previous highest was 25.0C on 29/9/2000 & 25/9/2002.)
The unseasonably warm conditions were caused by a number of troughs moving through New South Wales generating north-westerly winds drawing in very dry warm air from the centre of Australia.

AUGUST COLD SNAP - 8th August - A severe cold front passing through northern New South Wales brought strong winds and low temperatures to Guyra. The maximum temperature was 6.7C but the winds, which gusted to in excess of 50 km per hour at times, made it feel much colder. The 3pm temperature was 3.4C with a wind chill temperature of around -7C. A few tiny flakes of snow (snow grains) were observed during the afternoon, but were insufficient to classify the day as a "snow day". There was a light snowfall at Walcha during the morning.

FIRST SNOW FOR 2013 - 25th June - Low temperatures, showers and snow occurred along the Northern Tablelands during the morning. An upper level cold pool combined with showers being pushed northwards from a low pressure system near Sydney produced the very cold conditions. Light snow fell and settled on the ground in the Guyra/Black Mountain/Ben Lomond area, and further east around Ebor. In Guyra the snow started at around 3am, lasting for about two hours and settling on the ground about a centimetre deep. Most of it had melted by 9am. There were a few very light showers of snow mixed with rain (sleet) during the morning. The maximum temperature was 4.1C with the 3pm temp at 2.6C.

TEMPERATURE ALMOST REACHES RECORD HIGH - 12th January - Hot north-westerly winds brought unusually high temperatures to the Northern Tablelands. Guyra's maximum for the day of 32.5C was just 0.3C below the all time record high of 32.8C on 31st January 2003 (records from 1965).

GUYRA HOTTER THAN ARMIDALE - 10th January - Under rather unusual conditions Guyra was three degrees hotter than Armidale with a maximum temperature of 30.0C. Armidale's maximum was 27.0C. A trough line over the Northern Tablelands allowed hot north-westerly winds to blow over Guyra while Armidale was under the influence of cooler easterly winds resulting in an interesting reversal of temperatures between the two locations.

Guyra Weather News 2012

2012 RAINFALL TOTAL:  874.0 mm - 6 mm less than the long term average.

HOTTEST OCTOBER DAY FOR 10 YEARS - 26.8C - Saturday 20th October - Very warm air being drawn in from the centre of the continent by a trough created windy and hot summery conditions over northern New South Wales. Temperatures reached the high thirties over parts of the inland and north coast. With maximum of 26.8C it was Guyra's hottest day since 8th January this year (27.0C), and was the hottest for the month of October for ten years since 19th October 2002 (28.5C).

SPRING SNOWFALLS - 12th October - A cold snap brought moderate to heavy snowfalls to Guyra and surrounding areas with snow falling from shortly after midnight intermittently through to 9.30am The heaviest falls were between around 4am and 9am. At 9am the snow was 17 cms deep on the ground before it gradually started to melt at around 11am.
Temperatures were very low during the day with a maximum of just 4.0 C. Strong westerly winds made it feel much colder with a 3pm wind chill temperature of -8C. This was Guyra's coldest October day on record (38 years of records). The previous lowest was 7.2C on 6th October 1983. It was claimed by many residents to be the heaviest Guyra snowfall for at least 20 years. Temperatures were low enough to allow some of the larger 'snowpersons' in a number of front yards to survive overnight into the following day.
The snowy conditions were caused by cold surface temperatures following the passage of a trough, enhanced by an upper level cold pool, and moisture being added to the system by a low pressure system off the NSW coast. It also snowed in Tenterfield along with a few light falls in southern Queensland around Stanthorpe.

NORTHERN TABLELANDS SNOW - 9th-11th August - A cold front which passed through the region on Thursday 9th, and an upper level pool of cold air, brought showers and cold winds along with light snowfalls to some parts of the Northern Tablelands on Friday 10th and early Saturday 11th. There was no snow in Guyra apart from a shower of ice pellets (also referred to as sago snow or soft hail) late on Thursday evening. Light snow fell in Walcha in the early hours of Friday morning, and there were further snow showers south of Walcha late on Friday night and early Saturday morning. At this time snow also fell at Ebor and Point Lookout to the east of Armidale with a light cover on the ground. Guyra's maximum temperature on Friday 10th was 6.3C with strong south-westerly winds dropping the wind chill temperature well below zero.

UNEXPECTED AUGUST SNOWFALL - 1st August - An upper level pool of cold air over the eastern half of New South Wales contributed to some unexpected snowfalls around Black Mountain and Guyra in the evening. A series of four showers moved across the Northern Tablelands from the south-west between Armidale and Guyra between around 9.30 and 10.30pm. With surface temperatures between 1 and 3 degrees the showers arrived as snow settling on the ground to some extent around Black Mountain and to a lesser extent in Guyra. The sky cleared at around 11pm allowing the temperature to drop well below freezing which resulted in a combination of frost and snow on the ground in Guyra the following morning, 2nd August. Because of ice and snow on the road the New England Highway at the Devil's Pinch south of Guyra was closed overnight from around 11pm to 9am. This was an unusual event with snow followed by clear skies and severe frost. Also the showers were confined to a very localized area. Guyra's minimum temperature on 2nd August was -4.6C, Armidale city -5.0C.

LIGHT SNOWFALLS - 28th July - Light showers of snow fell in Guyra early in the morning. It started around 6am and snowed intermittently until just before 9am. There was a very light cover on the ground at 6.30am. A surface trough and upper level cold air brought the unexpected snow. The maximum temperature for the day was 6.3C with the wind chill keeping the temperature around 1C or less.

JULY RAIN EVENT - 12th to 14th July - A slowing moving low pressure trough passed through New South Wales generating moderate to heavy falls in the north of the state. In Guyra the rainfall total for the four days was 91.0 mm which was the heaviest for eight months. The rain cleared in the early hours of the 15th.
Daily totals were:  17.0 mm to 9am on Thurs 12th,  45.0 mm to 9am on Fri 13th,  27.0 mm to 9am on Sat 14th,  2.0 mm to 9am on Sun 15th

FIRST SNOWFALLS IN 2012 - 5th June - An upper level pool of cold air passed over the Northern Tablelands bringing light snowfalls to the higher areas including Guyra, Black Mountain and Ben Lomond. These falls were intermittent and light, and did not settle on the ground apart from a brief shower of sago snow at around 4pm. Maximum temperature was just 3.1C with wind chill temperatures well below zero throughout the day. This was Guyra's coldest day since 9th July 2008 (1.8C).

SUMMER OF 2011/12 COOLEST FOR 28 YEARS - Over the three summer months of December, January and February the average maximum temperature was 21.0C, the lowest since 1984. The average maximum temp in December was the lowest on record for December, and in January it was the lowest since 1989. Temperatures reached 25.0C on just six days, and the warmest was 27.0C on 8th January. The rainfall total was 351.5 mm, 43 mm higher than the average. It rained on 42 days.


2012 MONTHLY STATISTICS TABLE here.



Guyra Weather News 2011

HOTTEST DAY FOR 8 YEARS - 26th January - The maximum of 32.1C was the hottest day for January and for any month since 31st January 2003 (32.8C).

FIRST SNOW FOR THE YEAR - 19th July - An upper level pool of cold air moved over the Northern Tablelands during the morning bringing showers of soft hail which partly whitened the ground, and a moderate shower of snow from 2.55 to 3.30pm along with very strong winds. The snow settled briefly on the ground. The maximum temperature was 4.8C, and the wind chill temperature at 3pm was around -11C in the strong south-westerly wind.

SNOW & HAIL - 9th August - An upper level pool of cold air over northern New South Wales brought cold icy conditions to the Guyra region. There were one or two very light snowfalls during the early hours of the morning, but only settled on the ground to a minor extent. There were several showers of soft hail during the day up until around lunchtime. Maximum temperature was 6.7C, 3pm wind chill temperature was -5C.

MORE SNOW & HAIL - 18th August - A severe cold front brought windy and icy conditions during the day. From around 10am to 1.30pm there were several showers of soft hail (ice pellets), and from 1.30 to 2.30pm there were snow showers interspersed with rain. The hail partially whitened the ground, but the snow did not settle. The maximum temperature was 6.6C, and the wind chill temperature at 3pm was around -8C in the strong westerly wind.
SEPTEMBER SNOW - 9th & 10th September - A few light showers of soft hail or sago snow occurred during the day of the 9th, along with rain. In the early hours of the 10th there were several snow showers which left a light cover on the ground 1 to 2 cm deep. These snow showers occurred from approximately 1am to 6am, with some very fine snowflakes falling until around 9am. This was the heaviest snowfall in 2011. Maximum temperate on the 9th: 8.1C. Minimum on the 10th: -1.1C. Maximum on the 10th: 6.2C. Wind chill temperature at 3pm on the 10th was -5C. Total rain and melted hail/snow from this event: 22.2 mm. A surface trough and upper level cold pool were responsible for this event.

OCTOBER HAIL & SNOW - 1st October - As a trough passed through the tablelands, it brought thunderstorms, showers and low temperatures.
There were several showers of small hail, and a light shower of snow at around 6pm which did not settle. The heaviest of the hail showers just after 3pm whitened the ground.

NOVEMBER DELUGE - 23rd-26th November - A low pressure trough over north-eastern New South Wales generated widespread moderate to heavy falls of rain over the Northern Tablelands and North-West Slopes. Guyra recorded 192.4 mm over the four days bringing the total for the month up to 250.2 mm making it the second wettest November on record. The 24 hour total of 105.0 mm to 9am on the 24th was the highest daily fall of rain in Guyra since 22nd January 1946 (108.0 mm).

2011 MONTHLY STATISTICS TABLE here.
---
Snow Dates

The following is a list of all dates on which it has snowed in Guyra since 1982, including light non-settling falls.
Average annual number of snow days: 5.2.
1982:  5 days:  21/6,  22/6,  19/7,  20/7,  30/9
1983:  5 days:  27/6,  8/7,  1/8,  28/8,  6/10
1984:  8 days:  29/6,  30/6,  3/7,  4/7,  5/7,  11/8,  12/8,  19/9
1985:  9 days:  20/5,  21/5,  5/6,  6/6,  21/6,  19/7,  8/8,  2/9,  3/9
1986:  3 days:  23/6,  9/7,  6/8
1987:  3 days:  28/5,  23/7,  1/9
1988:  2 days:  8/8,  20/9
1989:  11 days:  10/6,  11/6,  21/6,  22/6,  24/6,  17/7,  18/7,  23/7,  24/7,  8/8,  26/9
1990:  8 days:  28/6,  2/7,  3/7,  3/8, 10/8,  23/8,  26/8,  22/10
1991:  6 days:  13/6,  10/7,  11/7,  14/7,  24/8,  12/9
1992:  10 days:  11/6,  24/6,  25/6,  26/6,  10/7,  20/7,  8/8,  13/8,  16/9,  29/9
1993:  1 day:   4/8
1994:  8 days:  13/4,  28/6,  30/7,  31/7,  21/8,  21/9,  27/9,  8/10
1995:  4 days:  17/6,  21/6,  19/7,  28/7
1996:  8 days:  12/7,  13/7,  14/7,  15/7,  21/7,  30/7,  19/8,  3/9
1997:  0 days
1998:  5 days:  23/6,  30/6,  29/7,  30/7,  31/7
1999:  3 days:  16/6,  14/8,  15/8
2000:  10 days:  28/5,  29/5,  30/5,  31/5,  1/6,  30/6,  27/7,  28/7,  24/8,  25/8
2001:  4 days:  7/7,  8/7,  26/8,  27/8
2002:  0 days
2003:  2 days:  24/7,  26/7
2004:  6 days:  20/6,  8/7,  17/7,  18/7,  5/8,  18/8
2005:  4 days:  22/6,  23/6,  10/7,  17/9
2006:  3 days:  4/8,  7/9,  16/11
2007:  9 days:  8/6,  9/6,  19/6,  20/6,  27/6,  28/6,  8/7,  9/7,  10/7
2008:  9 days:  17/5,  18/5, 9/7, 27/7, 28/7, 5/8, 6/8, 23/8, 22/10
2009:  2 days:  10/6,  15/7
2010:  5 days:  3/7,  2/8,  12/8,  26/8,  16/10
2011:  5 days:  19/7,  9/8,  18/8,  10/9,  1/10
2012:  4 days:  5/6,  28/7,  1/8,  12/10
2013:  1 day:   25/6


Guyra Snowfall Archive - Details of some of Guyra's snowfalls in recent years.

Gallery of snow photographs 1984 to 2011
<![if !supportLineBreakNewLine]>
<![endif]>
---

  
   12th October 2012 snowfalls
    <![if !vml]>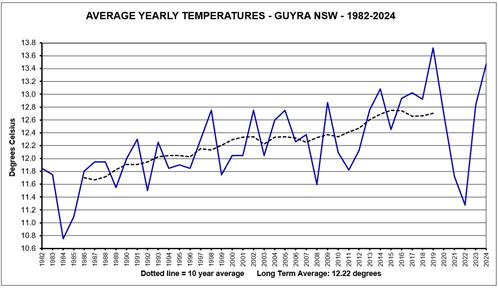 <![endif]>       <![if !vml]>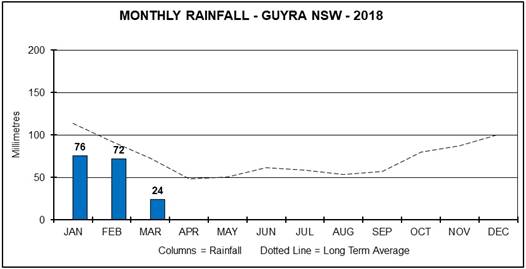 <![endif]>

     Above:  Two images taken near South Guyra in the morning of 12 October 2012.
     Left image by australiansevereweather.com  Right image by weatherarmidale.com 
<![if !supportLineBreakNewLine]>
<![endif]>



  

    Return to Armidale Weather homepage.

<![if !supportLineBreakNewLine]>
<![endif]>