Queensland Snow

<![if !vml]>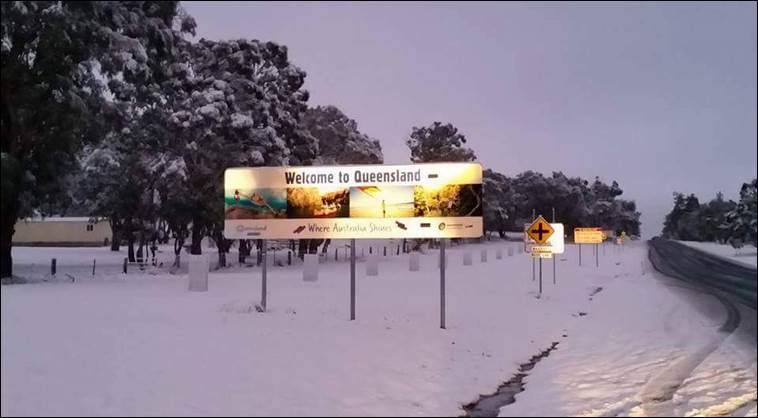 <![endif]>
The Romance of Snow
He who hath seen the eternal snows,
Noonday white and evening rose,
Though he descend down to the plain,
Never is the same again,
And in the mud, the dirt, the sweat,
Cannot lose, cannot forget,
The radiance of the eternal snows,
Noonday white and evening rose.
(Anonymous)
<![if !supportLineBreakNewLine]>
<![endif]>
      
 New England Highway, Wallangarra in the early morning of
 17 July 2015.


<![if !supportLineBreakNewLine]>
<![endif]>
For many children, the excitement of freshly fallen snow and the magical transformation it makes to a familiar world is seldom forgotten.  For those who have never seen snow, stories of white Christmases, Arctic adventure, the conquest of high mountains, winter holidays in exotic countries, and fairy tales set in unfamiliar snow bound countries infuse a powerful mythology, one that lasts well into adult life.
For those who don't live among the 'eternal snows', but where snow is more rarely experienced such as South East Queensland, a winter snowfall provides a diversion from the humdrum regularity of everyday life. It offers a period of imaginative escape, a remnant of childhood dreams and fantasies – perhaps a glass of wine and a fine meal in front of a roaring fire. Unusual falls of snow can transform people, making them more gregarious, good humoured and generous of spirit. When snow falls in Queensland, many grown-ups pack up their cars with warm cloths, hot drinks, children, and excitement and head for the snow line.
<![if !supportLineBreakNewLine]>
<![endif]>
Snow In South East Queensland
Historically speaking, snowfall is not rare in South East Queensland occurring on average a little more than once per year over the past 134 years. However, several years may pass without snow falling somewhere in Queensland. Interestingly, The Queenslander magazine noted on the 6th November 1895 that: 'Snow is unknown in Queensland, except at the Stanthorpe Highlands, and very rarely falls even there'. The facts are, however, that snow has fallen as far North as the Clark Ranges near Mackay, as far West as Texas and can hardly be described as a rare event in the Stanthorpe district.
Certainly, from the perspective of some years snow may seem to be an exceptional occurrence, whereas at other times, for example in the early 1960s, snow would seem to be a regular visitor to Queensland's Granite Belt and Southern Downs in winter time. The most recent settling snow fall in Queensland occurred on the 28th July 2008 when up to two centimetres were recorded by observers at Eukey, 14 kilometres South East of Stanthorpe. More recently, a further, but non-settling fall occurred on the 12th October 2012 on the Eukey plateau. During this event, some light snow cover may have occurred in the higher parts of the district. Courtesy of the 'Toowoomba Chronicle', a short clip of this fall, recorded in the Eukey district can be viewed at: http://www.thechronicle.com.au/news/winter-makes-comeback-temps-dip-minuses-toowoomba/1580064/
<![if !supportLineBreakNewLine]>
<![endif]>
The Last Great Snow Event in South East Queensland: July 1984
Snow began falling on The Granite Belt on Tuesday 3rd of July with falls continuing till Thursday the 5th. Heavy falls were recorded at Mount Tully and Eukey (South-East of Stanthorpe) where the snow cover was reported to be 60cm deep in surrounding areas with 15cm in the town. In Stanthorpe snow was 'welcomed with sheer delight by most residents' (Border Post, July 5, 1984). The snowmen and snowball fights that erupted on every corner of the town attested to the general euphoria. To the east of Stanthorpe, Graziers began moving ewes, and does in lamb into shelter as the snow persisted.
'Just like a Christmas scene' is how stranded Warwick bowler Mrs. Pat Collins described the view from her Tenterfield motel room as she and five friends played cards and watched the snowfall (Daily News, July 4, 1984). The bowlers, who were visiting Tenterfield to take part in a tournament, became stranded when snow and ice made the road back into Queensland dangerous. In Brisbane it also 'tried hard to snow' reported a spokesman for the Weather Bureau. Guests on the 21st floor of Lennon's Hotel in the city told how they had seen snow blowing past their windows. The snow, however, turned to sleet before it hitting the Brisbane streets. The closest settling snow to Brisbane fell on Mount Tambourine and Mount Glorious, a one hour drive from the City.
<![if !vml]>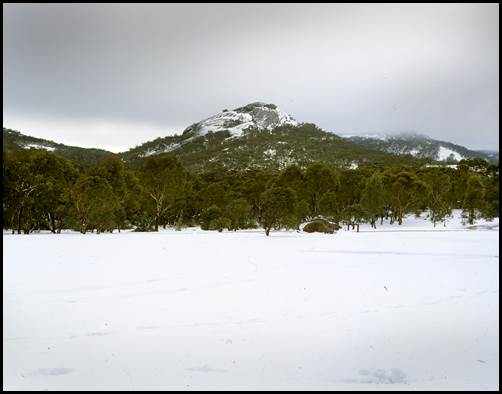 <![endif]>
'The Pyramids', Girraween National Park, viewed across open fields during the snow event
of July 1984.  Photo courtesy of Ulrike and Siegfried Manietta.
<![if !supportLineBreakNewLine]>
<![endif]>
An extraordinary lemming like rush to see Queensland's very own snowfields began on the Tuesday when hundreds of sightseers headed to the Granite Belt. A particularly keen snow chaser chartered a plane to travel from North Queensland and join the fun. The local telephone system became overloaded and broke down as people endeavoured to tell their friends of the great event. You can read a snow chase report of this event here. More photos of this extraordinary event can be found here.

<![if !supportLineBreakNewLine]>
<![endif]>
Snow year Cycles
An analysis of South East Queensland snowfall history shows that there is a loose cycle of approximately 4-5 years between good and poor snowy winters. This cycle, however, cannot be relied on in a predictive sense. Nevertheless, as the last snow falls occurred in 2007 and 2008 on the Granite Belt, further snowfalls could happen during winters of 2012 and 2013. On the other hand, snow can fall somewhere in South East Queensland any time between the months of May and November.
A second cycle demonstrated by the snowfall data shows a rotation of approximately 30-years between peak snow periods in South East Queensland. These peaks occurred in the mid-nineteen twenties, the early nineteen fifties and early to mid nineteen eighties. The most recent of these 'fuzzy' cycles should peak in the around 2015, but shows little sign of being significant at this stage – global warming perhaps?
You will find a historical table of Queensland snowfalls with analysis here.
<![if !supportLineBreakNewLine]>
<![endif]>
<![if !vml]>

<![endif]>
Figure One
Notes on Figure One
Figure one shows the snow days that have occurred in South East Queensland, (predominantly the Southern Downs and Granite Belt districts) during the past 134 years. There have been 156 snow days in this period, which represents just over one snow day per year. Figure 1 shows an area graph of these falls with a 6-year moving average and the 134-year trend line. The trend line shows a decline in snow days from just over one snow day per year to approximately 0.85 snow days per year currently - a decline of approximately 20 per cent over the period.
Clearly the 50-year period from 1925-1975 was a prominent one for snow in South East Queensland realizing 60 per cent of the total falls that occurred during the past 134 years. Incidentally, only 76 of the past 133 years provided a snowfall in South East Queensland. Potential for years with snow have declined from a probability of 0.65 to 0.4 per year over the past 134 years. Thus currently, there is only a 40% chance of snow falling somewhere in SE Queensland each year. There is no indication that this rate will improve according to the experience of recent years. 
However, another snowy period, similar to those experienced between 1928-1937 and 1958-1967 (see figure two) may occur once more. It is highly likely, however, that global warming may moderate any such future occurrences. Despite this gloomy prognosis, Peter Burr (Armidale Weather) suggests that: 'With Armidale's winters becoming milder it seems unlikely that any further major 1984 intensity snowfalls will occur. However, with the ever-increasing erratic nature of weather systems, nothing can be ruled out with certainty. With the right conditions still occasionally occurring during the winter months, another good heavy snowfall is still possible'. There is hope!
Periods of 3-5 years without snowfall including 1890-1894, 1942-1945, 1979-1981, and 2001-2004, are equally dispersed throughout the 134-years of this record The last big snow event occurred in South East Queensland during July 1984. Other big events include July 1884, June 1900, July 1959 and July 1974.
<![if !vml]>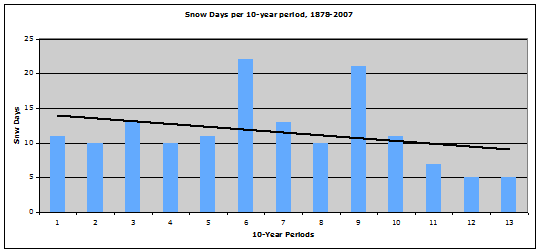 <![endif]>
Figure Two
<![if !supportLineBreakNewLine]>
<![endif]>
Notes on Figure two
Figure two shows the number of snow days that occurred in SE Queensland for each 10-year period from 1878.  The chart shows that in two 10-year periods (6 and 9) 1928 -1937 and 1958-1967 there was an average of just over 2-snow days per year. The periods showing the least frequency are the recent phases1988-1997 and 1998-2007 with an average of 0.5 snow days per year.
The linear trend line revealed in figure two shows a similar story of declining snow days in SE Queensland as does figure one. This does not, however rule out an extraordinary event in the future.
The Best Period to See Snow and Sleet in SE Queensland
Figure three shows that the best opportunity to observe snow or sleet falling in SE Queensland is in the 20-day period (periods 9 and 10 below) from the 11th to 30th July. Forty-five per cent of Queensland's snowfalls occur in July according to past records. The black line in figure 3 shows the 2-period moving average for smoothing purposes.
<![if !vml]>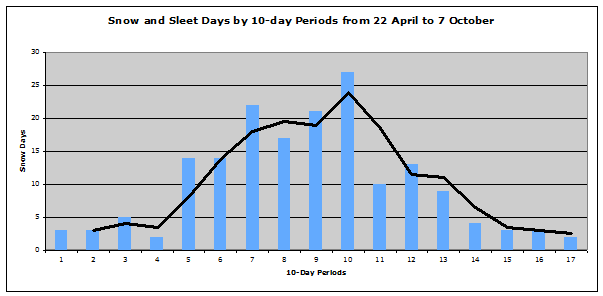 <![endif]>
Figure Three
           For further information contact Nicholas Oughton at: n.oughton@griffith.edu.au
---



<![if !supportLineBreakNewLine]>
<![endif]>