<![if !vml]>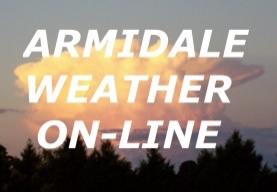 <![endif]>The Weather at Armidale NSW

The Official Website
All information from Bureau of Meteorology
weather stations in Armidale


SUMMER THUNDERSTORMS
Left:  The aftermath of the severe hailstorm which struck East Armidale
on 21 December 2006. Ice was thick on the road in North Street
just after the storm finished. Details in the Severe Weather Archive.

<![if !supportLineBreakNewLine]>
<![endif]>
---
This is the latest temperature and wind information at Armidale Airport. Further data from the airport HERE.
Note: the airport is 93 metres higher and five kilometres from the city weather station resulting in slightly different weather conditions occurring there. Winds are usually around 10 to 15 kms per hour stronger at the airport. Day temps are about one degree lower, and night and early morning temps can be around two to four degrees higher at the airport.
---
This Month - December 2014
<![if !vml]>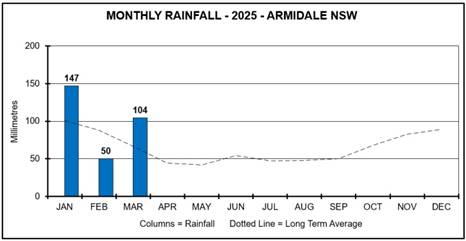 <![endif]> Total Rainfall up to 9am on the 19th:
 91.2 mm    (Long term average: 89 mm)

This Year - 2014
Total Rainfall up to 9am on 19th Dec: 468.6 mm (Annual average: 787 mm)
Highest Daily Rainfall: 28.6 mm on 6th Dec
Highest Temperature: 37.1C on 3rd Jan
Lowest Temperature: -8.2C on 9th Jul
Hot Days - Temp above 30C: 34 (average: 14 days)
Cold Days - Maximum below 10C: 8 (average: 15 days)
Cold Mornings with Frosts: 98 (average: 99)
---

Latest News 2014
(using information from Armidale City weather station)

NOVEMBER RAINFALL:  22.6 mm on 8 days. This was 64 mm less than the long term average and was the driest November since 1982 (9.8 mm). Details in the November 2014 Weather Review here.

HOTTEST NOVEMBER FOR 117 YEARS - In an extraordinarily hot dry month, November 2014's average maximum temperature of 28.0C ranked it as the second hottest November on record. The hottest was in 1897 averaging 28.6C at the post office. Temperatures exceeded 30C on eight days of the month with 35C exceeded on 3 days.

NOVEMBER HEAT - Hottest November days for 70 years - 35.5C - Saturday 15th November - Hot north-westerly winds ahead of a low pressure trough caused temperatures to soar to near record levels for November in northern New South Wales. Armidale's maximum of 35.5C was the highest on record for November at the present weather station site (records commenced in 1981), and the highest (from records at the former CBD sites) since 19th November 1944 when the post office recorded 36.4C. The temperature reached 30C at 10.30am and remained above 30C until 5.30pm with the maximum of 35.5C at 3.50pm.
A week later high temperatures were again experienced with 35.0C recorded on Saturday 22nd November, and 35.6C on Sunday 23rd November.

2014 DROUGHT YEAR - With well below average rainfall in nine out of the eleven months so far this year, 2014 is shaping up to be one Armidale's driest years on record.
Monthly totals this year: January 17 mm, February 50 mm, March 102 mm, April 6 mm, May 20 mm, June 36 mm, July 21 mm, August 63 mm, September 17 mm, October 22 mm, November 23 mm. January to November total: 377 mm.

The following is a list of Armidale's eight driest years on record. Records commenced 1858, annual average 787 mm.
1874: 420 mm,  1862: 436 mm,  1982: 460 mm,  1888: 473 mm,  1965: 479 mm,  1923: 498 mm, 1918: 504 mm,  1940: 505 mm.
Models suggest that a total this year of less than 500 mm is likely placing 2014 in the top five driest years on record.
(Note: This is an estimate only. It is quite possible that the total will be higher than this figure.) 

NOVEMBER STORMS - 5th November - A line of thunderstorms passed through the Northern Tablelands in the early evening with intense lightning and thunder, strong wind gusts, but only light to moderate rain. Armidale recorded 8.6 mm from the storms, but the amount would have been a little higher due to strong winds at the height of the storms affecting the amount of rain reaching the rain gauge. Wind gusts at Armidale airport of 95 km per hour were recorded at 7.28pm and 7.30pm. A low pressure trough moving through New South Wales generated the wild weather.

HOTTEST OCTOBER FOR 118 YEARS - With an average maximum temperature of 24.1C for the month, October 2014 was Armidale's hottest October since 1896. Sunny skies, warm westerly winds and an almost complete lack of rain systems resulted in the unseasonably warm spring month. The last week was the warmest with temperatures exceeding 30.0C on three days peaking at 32.4C on the 26th, the highest ever in the month of October.

OCTOBER RAINFALL:  22.4 mm on 4 days. Most of the rain (21.4 mm) fell over the 13th and 14th with the remainder of the month very dry. The progressive total for the year of 355 mm is 260 mm lower than the average for the January to October period. Rainfall has been below average every month this year so far except March and August. Details in the October 2014 Weather Review here.

HOTTEST OCTOBER DAY ON RECORD - 32.4C - Sunday 26th October - A low pressure trough over inland New South Wales directed very warm north-westerly winds over most of the state with Armidale reaching 32.4C at 3.55pm. This was the Armidale's hottest October day on record (from 106 years of temperature records available). Armidale airport recorded a maximum of 31.6C at 4.03pm. It's unusual for temperatures in Armidale to exceed 30 degrees in October. The last time it happened was in 2002. The previous highest October temperature on record was 31.5C on 19th October 2002. Monday 27th October 2014 was almost as hot as the previous day reaching 31.5C.

OCTOBER SHOWERS AND THUNDERSTORMS - Showers and thunderstorms associated with an intense cold front delivered good falls of rain to the Northern Tablelands in the evening of Monday 13th October and in the early hours of Tuesday the 14th. Armidale recorded 21.4 mm from this event, Uralla 26 mm, Guyra 12 mm and Walcha 21 mm.

SEPTEMBER RAINFALL:  17.4 mm on 5 days. It was the driest September since 2007 (8.4 mm), and the progressive total for the year of 332 mm is a massive 214 mm lower than the average for the January to September period. The highest daily fall was just 8.0 mm on the 25th. Details in the September 2014 Weather Review here.

2014 WINTER REVIEW - It was a dry winter, but temperatures were only slightly higher than the long term average for the three winter months. Details here.

SEPTEMBER COLD SNAP & HAIL - Tuesday 2nd September - A cold front passed through the Northern Tablelands in the afternoon bringing with it cold gusty westerly winds and showers of rain and hail. In Armidale a shower of soft hail (often referred to as sleet) occurred at 2.25pm and lasted a few minutes. The temperature dropped from a maximum of 16.5C at 12 noon to 8.9C at 3pm. Showers continued into the evening with light snow falling in Guyra in the early hours of the 3rd. There were heavier snowfalls further south around Hanging Rock.

AUGUST RAINFALL:  63.2 mm on 11 days, 16 mm higher than the long term average, and was the wettest August since 2007. Most of the rain fell in two events - 30.4 mm from the 16th to the 19th, and 30.0 mm from 25th to the 27th. Details in the August 2014 Weather Review here.

RAIN EVENT - 25th-27th August - In the second rain event for August, a low pressure system off the far north coast of New South Wales feeding moist winds into an inland trough produced heavy falls along the coast and moderate falls on the Northern Tablelands. Armidale recorded 30.0 mm over the three days which provided a valuable follow up to the moderate rainfalls a week earlier.

BEST RAIN FOR 5 MONTHS - 16th/17th August - After months of well below average rainfall, a trough which moved through the region on 16th August, delivered 23.0 mm of rain - Armidale's highest daily fall since 27th March this year (25.8 mm).

TELEVISION REPORTING OF ARMIDALE'S WEATHER - Daily temperatures for Armidale reported on the major TV networks often vary from each other. This is because the ABC reports the temperatures from the city weather station, whereas NBN and Prime usually report temperatures from Armidale Airport. The airport temperatures are not as representative of conditions in the city due to its higher altitude. Overnight minimums in particular are often around 2 to 5 degrees colder at the city weather station which is located in the Armidale valley where temperature inversions are common on calm clear nights. More details on the reasons for temperatures differences between the two stations here.

JULY RAINFALL:  20.8 mm on 6 days, 27 mm lower than the long term average. Most of the rain fell in the second half of the month with the heaviest daily fall being 10.4 mm on the 26th. Details in the July 2014 Weather Review here.

SNOW IN ARMIDALE - Friday 18th July - An intense cold front moved through the region early in the morning with snow showers falling in Armidale between 7am and 9am. The snow did not settle on the ground in the middle of the city, but there was a settling fall at the University of New England on the north-west edge of the city. The last snow in Armidale was a very light fall on 12th October 2012, and the last time snow settled on the ground was on 9th July 2008.
The maximum temperature of 5.5C on the 18th made it the coldest day for six years since 9th July 2008 (5.0C).
Snow also fell in other towns on the Northern Tablelands including Hanging Rock, Walcha, Uralla, Ebor, Guyra and Ben Lomond.

SEVERE FROSTS - 8th & 9th July - Very cold air over New England in the wake of a cold front on 5th July produced low temperatures and severe frosts on the 8th and 9th. The minimum on the 8th was -7.5C followed by an even colder morning on the 9th dropping to -8.2C. These were the lowest temperatures since 25th June 2012 (-9.0C).


IS ARMIDALE'S CLIMATE BECOMING WARMER?  See for yourself. Go to the bottom of this page for the 123 year Armidale temperature graph.

SNOW IMAGES - Click on the link below to see a gallery of snow photographs taken in various locations on the Northern Tablelands over the last 30 years:
Snow images 1984 to 2011.

EBOR FALLS ICE AND SNOW (Historic Event) - In July 2007, after several mornings of sub-zero temperatures, Ebor Falls, 80 kms east of Armidale, partly froze and a mini snowfield was created by spray at the base of the falls. Photographs of this amazing event here.
<![if !supportLineBreakNewLine]>
<![endif]>
---
Latest Forecast
Click HERE for the most recent four day forecast from the Bureau of Meteorology.

Forecast Rainfall
Where will it fall, when will it fall, and how much is likely to fall?
Click HERE to access the Bureau of Meteorology's four day rainfall predictions.
This Month's Daily Data
Click HERE for daily data for this month compiled by the Bureau of Meteorology. Data is from the city weather station at East Armidale except for wind and pressure readings which are from the Armidale Airport weather station.
More detailed daily data can be found under the "Monthly Data Files" link below under the heading "

Armidale's

Weather."
---

<![if !vml]>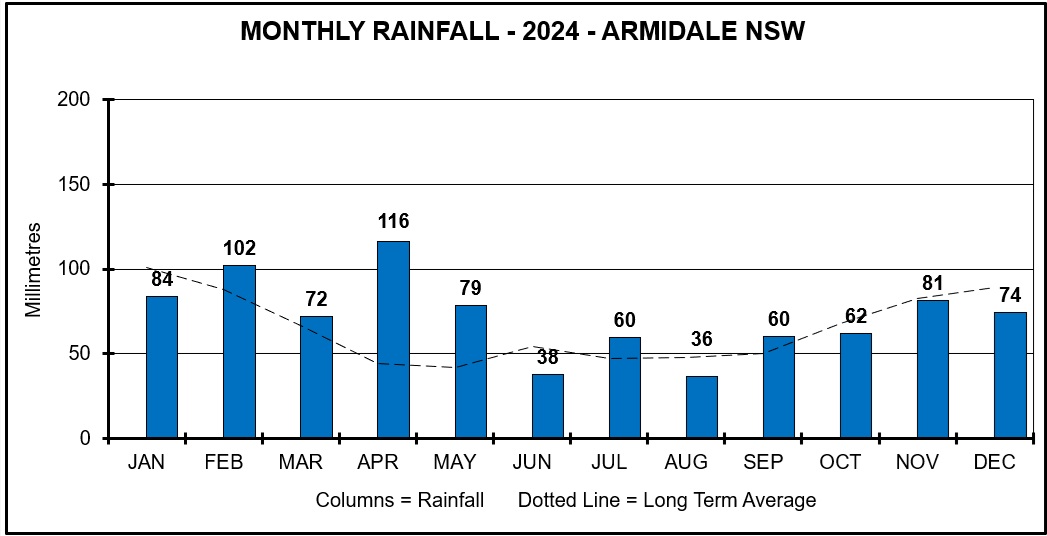 <![endif]>December in Armidale - what can we expect?
The first month of summer brings more humid conditions and warm to very warm days with temperatures often reaching the high twenties and sometimes into the low thirties. Nights are still mostly cool with minimums occasionally below 5 degrees.
Rainfall can be moderate to heavy with much of it falling from thunderstorms as the storm season reaches its peak in December. Flash flooding is often a feature of these storms, and hail is also possible. Hot sunny days are often cooled in the late afternoon by thunderstorms which build up rapidly after the middle of the day.
Average max temp: 25.0 deg Average min temp: 11.1 deg
Average rainfall: 88.5 mm on 10 days Average fine sunny days: 15
Average days with thunderstorms: 8    Average frosts: 0.3
Average hours of sunshine per day: 8.1
Hottest: 34.8 deg on 19th Dec 1990 Coldest: -0.5 deg on 4th Dec 1987 & 7th Dec 2002
Hottest at former CBD site: 37.7 deg on 20th Dec 1938
<![if !supportLineBreakNewLine]>
<![endif]>
National Climate Centre outlook for December 2014: Rainfall lower than the long term average, temperatures higher than normal.
<![if !supportLineBreakNewLine]>
<![endif]>
---
Armidale's Weather
---
Weather at Nearby Locations
---
DO YOU HAVE ANY PHOTOGRAPHS OF ARMIDALE'S WEATHER? I'm always on the lookout for a good photo for the top of this page. If you have any which you think look good (interesting clouds, sunsets, hail, frosts, snow, floods etc) in or around Armidale, please email me here.
Information and statistics in these pages referring to Armidale are sourced from the Bureau of Meteorology weather station in East Armidale, station number 56037. Some data is also used from the Bureau's automatic weather station at Armidale airport, station number 56238.

Feedback or queries: here.
---

Armidale Temperatures 1891-2013
<![if !supportLineBreakNewLine]>
<![endif]>
<![if !vml]>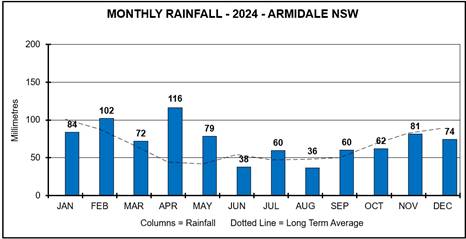 <![endif]>


The above graph shows the average (mean of average max and average min) temperature for each year from 1891 to 2013.
The dotted line is the ten year average.
Until 1997 temperatures were recorded in Armidale's CBD. Temperatures recorded since 1997 at the East Armidale site have been weighted to be compatible with the earlier recordings.
The ten year average dotted line shows periods of warming and cooling.
---
Cloud Animation
Development of cumulus cloud at Black Mountain on 18 February 2014.
This may take a few seconds to load depending on your internet speed.
File size 2.5mb.  Imagery by Ian Reeve.


<![if !vml]>
<![endif]>
---